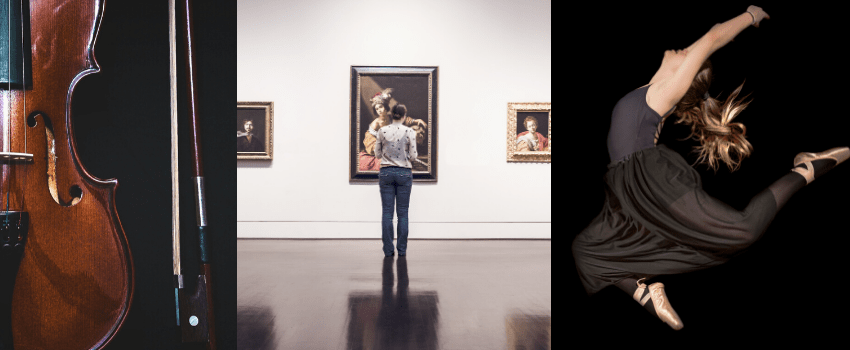 If you feel that there are a lot of things to do this weekend but you don't know what to chose, do not worry! Our Spanish school El Rincón del Tándem suggests here some original plans that promote the interconnection among arts 🙂
We have selected some events born from the interconnection among arts and that will take place in Valencia this weekend. So, we invite all our students of the Spanish course to take a look at description below and choose the event that they like the most.
Or, why not, we also suggest them to try to attend all of them…
"Cello Covers"
Saturday 18th at 12.00 p.m.
La Casa de la Mar, Av. Vicente Blasco Ibáñez Novelista 8, Alboraya
Free event
"Cello Covers" is an interesting project born in 2015 at the initiative of cellist Hermes Mas.
This initiative is based on the encounter between the classical and the modern arts through the experimental fusion of cello with electronic music.
During these concerts, Djs will integrate the latest lounge-house trends to the elegant sounds of cello, one of the most representative string instruments of classical music.
In addition, this artistic proposal will be enriched by a third component through the live performance of dancers.
These series of concerts take place at La Casa de la Mar. A vibrant space nearby the Patacona beach that carry out different kind of initiatives: music, yoga, surfing, gastronomy, ect.
Finally, we inform you that admission is free until full capacity is reached. To book your place, you will only have to register in this link.
Without doubt, an innovative proposal that breaks time constraints in music and creates synergy between the arts 🙂
"Scandale"
Saturday 18th at 8.30 p.m.
Teatro El Musical, Plaza del Rosario 3
Ticket: 12 euros
This Saturday TEM theatre will host "Scandale". One of the most recent works of the French dancer and choreographer Pierre Rigal.
Through corporal expression and live music, this show tells us about youth and its complex emotional world.
Through daring choreographies that seem to defy gravity and that integrate urban rhythms and hip-hop, dancers will express the great vital energy of young people and their way of processing feelings.
In this synergy of musical expression and dance, the body itself, and in particular the breath, become another instrument of the soundtrack. Breathing, onomatopoeia and incomprehensible words will be part of a unique expressive repertoire.
Finally, we emphasize that the director Pierre Rigal is a famous dancer and choreographer, a well-known artist all over Europe.
Therefore, if you feel like knowing his work and enjoying a very original artistic experience, do not miss this opportunity! You can purchase your ticket in advance on this website.
"No solo mujeres"
From Saturday 18th till March 8th. From Tuesday to Sunday, from 10 a.m to 2 p.m. and from 5 p.m. to 7.45 p.m.
La Rambleta, Boulevar Sur, esquina calle Pío IX
Free exhibition
This Saturday at 12 p.m. the opening of the artist Carmen Grau's exhibition "No solo mujeres" will take place. A journey in images that rescues women from the marginal place in which they have been forced to live for centuries.
The exhibition consists of the polyptych "Mujeres"; a 169-piece work focusing on women that have struggled to make their voice heard.
Through painting, we will meet very diverse women. Real women, others from the world of fiction, others famous and others not.
Furthermore, the exhibition ends with the series "La mujer de los abanicos"; a collection of small sculptures that symbolize the relationship between women and society.
An interesting plan for the lovers of committed art 🙂
Música al IVAM
Sunday 19th at 1 p.m.
Instituto Valenciano de Arte Moderno, Calle Guillem de Castro 118
Free concert
This weekend IVAM invite us to this event in the main Hall of the museum.
This Sunday's concert is part of a series of performances by the students of the Centro de Perfeccionamiento Plácido Domingo of Palau de les Arts. An interesting initiative that was born in 2015 from the collaboration between IVAM and the Palalu de les Arts Reina Sofía.
The aim of the project is to combine the programming of the two entities and contribute mutually to the encounter of diverse artistic expressions.
The 2019-2020 series of concerts will end in June. All the concerts are free.
Therefore, this Sunday we encourage you to enjoy art in all its forms. For example, starting with a pleasant visit to the IVAM exhibitions and ending with an opera concert…
A perfect plan to feed mind and spirit 😉
We hope that this interconnection among arts will help you spend a very special weekend in Valencia.
As usual, our Spanish school El Rincón del Tándem invites you to immerse yourself in the social and cultural life of the city.
Finally, we invite you to take advantage of every occasion to practice your Spanish outside the classroom. 🙂
Have a nice weekend!