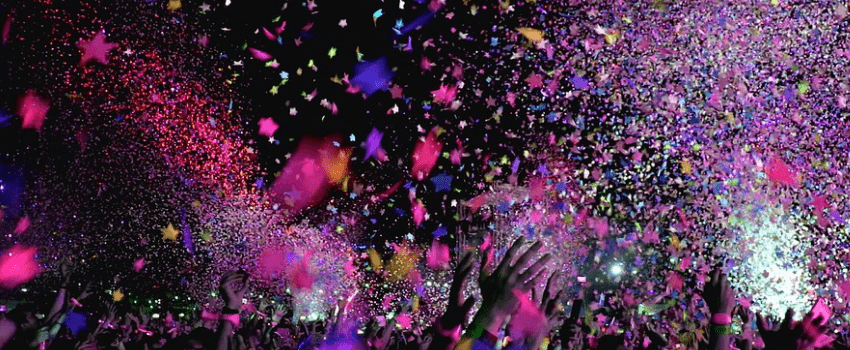 Friday has come and so the need to rest and have fun. And, is there any better than going to summer fests and festivals? If you want to know more, our Spanish school El Rincón del Tandem tells you everything in this blog 😉
Valenciam people love to celebrate summer with summer fests and festivals. That is a way to enjoy the good weather, to make new friends and to appreciate good music and food.
Therefore, we encourage all our students from the Spanish course to join these great celebrations.
Below you will find more details on how to do it….
7ª Noche de las Velas
Saturday, 27th. 09.00 pm
Titaguas
Free outdoor event
The Titagua town celebrates e new edition of La Noche de las Velas (Candle Night). A very special night in which we will enjoy a suggestive and magical atmosphere.
This Saturday, Titaguas will turn off the light to illuminate with thousands of candles every corner, square, balcony and windows of the town.
Between light and shadows, we will enjoy outdoor shows, such as mini-concerts and micro theater performances. In addition, we will have the opportunity to contemplate the sky with telescopes.
And if you want to know the town in daytime, you will also find many things to do, such as taking part in clay workshop, bee and candle workshops, wine tasting, etc. Take a look at the event program to know more.
Therefore, this Saturday, we invite you to stroll through Titaguas streets and alleys, enjoying a show of light and shadow in which everything around will acquire a magical and mysterious aura.
And also, to spend a romantic night between candles in which the stars will seem closer than ever…
Do you dare look at the world in a different light?
VII Iboga Summer Festival
Friday 26th, Saturday 27th and Sunday 28th
Tavernes de la Valldigna
Ticket: from 8 euros
The Iboga Summer Festival is one of the most emblematic musical events of the Valencian Community.
On its three stages, several bands from different countries will make us dance with repertoires that go from reggae, to world music, from balkan to ska, to swing, etc.
Among the guest artists we point out Femi Kuti and the Positive Force (Friday 26th) with its explosive mix of Afro beat, soul, R&B and reggae and Orishas (Saturday 27th) that combines traditional Cuban music with hip-ho.
However, Iboga is also a cultural and recreational space. In fact, besides concerts, it offers us the possibility to do some meditation, learn dances, nose into handmade products, or learn about environmental sustainability.
Concerning sustainability, we point out the #IbogaChallenge initiative that, inspired by the philosophy of the 3 Rs (reduce, reuse, recycle), promotes debate and exchange of practices on the reuse of everyday plastic objects. In addition, we can also visit the exhibition space with the best reuse and recycling inventions.
You can buy tickets for Saturday and Sunday (45 euros) or only for Sunday (8 euros), on the festival website.
Ready for a weekend of much dancing and world music?
Camisfest
Sunday, 28th. From 12.00 pm to 8.00 pm
Amstel Art – Edificio Veles y Vents
Free entrance
This Sunday, we welcome Camifest! The first festival of design, music and t-shirts.
In the Amstel Art space, artists and illustrators will introduce us to the different creative possibilities of the encounter between art and textile fashion.
The event program includes DJ sessions, a talk about design and illustration on t-shirts, a performance of textile illustration, a fashion show and a concert.
Furthermore, in the exhibition space T-shirt Markt, you will also find unique T-shirts by brands like Friking Valencia, King Mono, Márcate.net, Goatxa, and Pitiminís.
Here, you can check the full program of the event.
In short, the festival is part of the rich cultural program that is taking place at Amstel Art during in July and August.
Do you feel like discovering new things? Well, we invite you to visit the newest Valencian festival 😉
Solmarket
From the 26th of July to the 18th of August. From 7.30pm to 1.00 am.
El Puig Beach
Outdoor free event
In our summer agenda, we cannot miss the Solmarket. One of the most popular Valencian summer festivals, at 10 km away from Valencia.
On the beach of El Puig, we will enjoy a plan for any type of audience, containing all the key ingredients for a perfect summer evening.
Firstly, we will find a varied gastronomic offer with 20 food trucks of world food. Secondly, a market of handicrafts and original items. And, finally, an entertaining program for all tastes and ages, with live music and more activities.
In addition, we like that cultural proposals are committed to solidarity causes.
Similarly to the Iboga festival, the Solmarket promotes eco-sustainable initiatives, abolishing the use of plastic bottles and replacing them with recycled PET bottles and cups.
Also, we encourage you to participate in the solidarity night race to raise funds for people with reduced mobility in El Puig
So, we don't need anything else to spend a fantastic summer evening, do we?
We also remind you that in the framework of the July Fair program, on Friday 26th the Correfoc will take place, a parade of beasts, masks and fires that will start at 11 p.m. and will pass through Calle de las Barcas, Plaza del Ayuntamiento, Avenida del Marqués de Sotelo y Estación del Norte.
And don't miss the Battle of Flowers, also! Sunday 28th, at 8:00 p.m. on the Paseo del Albereda 🙂
We hope this blog helps you spend a beautiful weekend, between summer fests and festivals.
From our Spanish school El Rincón del Tandem, we encourage you to enjoy the cultural and social life, in Valencia and its surroundings.
And, of course, to continue practicing Spanish in a fun and entertaining way.
Have fun!