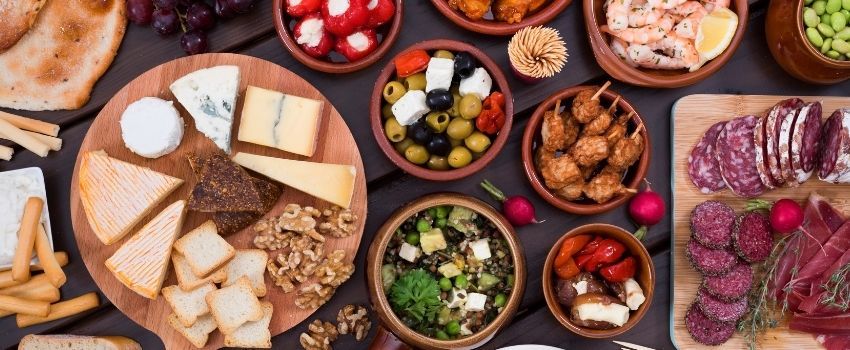 This month, two gastronomic initiatives combining tradition and originality are taking place in Valencia. If you want to see up close the local cuisine, El Rincón del Tándem Spanish school tells you more in this post ?
Today we talk about two gastronomic initiatives in Valencia that you will be able to join this weekend.
In our Spanish school, students not only learn the language but also the Spanish and Valencian culture. Undoubtedly, gastronomy is a fundamental part of the local heritage and a tasty and pleasant way of experiencing the city ?
Throughout the year, Valencia hosts many gastronomic events with the aim of promoting Valencian cuisine, hospitality and a healthy and sustainable eating.
This month, there are two gastronomy events that you cannot miss. Let's see them in detail!
Valencia Cuina Oberta 2021
Until May 30
Several restaurants in Valencia
This month Valencia celebrates the XXIV edition of Valencia Cuina Oberta. A not to be missed event of the cultural and gastronomic programming of our city.
This initiative arises with the aim of bringing gourmet cuisine to all and promoting sustainable products in gastronomy.
This year, 58 restaurants in Valencia have joined the initiative, selling ad hoc menus at an affordable price. Therefore, it will be possible to taste haute cuisine dishes at a special price until the end of the month.
Every place will offer a unique menu, although all the culinary proposals will be prepared using seasonal products. In addition to promoting local products, this year the festival pays tribute to one of the most representative arts of our region: ceramics.
In fact, all restaurants will serve their dishes to diners in ceramic tiles plates made for the occasion by the ceramist María de Andrés. The artist was inspired by Valencian nature motifs in designing her pieces.
Finally, within Valencia Cuina Oberta will be held a contest to choose the best menu "Mode Valencia On". One of the criteria that the jury of experts will take into account will be the use of seasonal products in May, such as medlar, cherries, asparagus, chicory, etc.
We suggest you to check the list of the restaurants, the menus and prices on the webpage of the event.
La hora del Vermut
Until May 23
Several places in Valencia
La hora del Vermut is an initiative promoted by CONHOSTUR, Confederación Empresarial de Turismo y Hostelería de la Comunidad Valenciana, in which 120 restaurants from all the region take part.
In fact, it will be possible to enjoy this gastronomic proposal not only in the Valencian province but also in Castellón and Alicante.
This event gets its name from one of the most popular Valencian customs. The "Vermouth time" is the one that precedes lunch and translates into a time to share with friends and family.
The combination of vermouth and tapa also represents the Valencian aperitif par excellence. So do not miss the opportunity to experience that with a vermouth and a tapa de autor. ?
In Valencia 25 places have joined this initiative, creating their own tapa de autor. The gastronomic offer is very varied; you will find innovative recipes, as well as recipes inspired by tradition.
In addition, it will be possible to explore the world of vermouth savouring different qualities and local recipes such as vermouth with herbs from the Sierra Mariola or vermouth made from Moscatel.
For information on venues, tapas, prices and schedules, we invite you to consult the event page.
Lastly, if you want to know more about regional gastronomy, we suggest you to read our previous posts about summer drinks in Valencia and bars that stand out for their tortilla de patatas.
As usual, our Spanish school, El Rincón del Tándem encourages you to explore local culture and the Valencian rich cuisine.
And, of course, we also invite you to keep expanding your vocabulary with new words and expressions, inside and outside the classroom.
Happy weekend and see you soon!