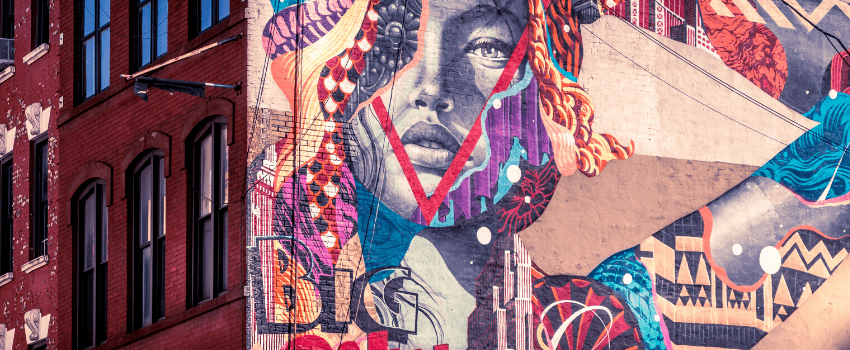 This weekend we invite you to discover the "Controcultura" in Valencia. Our Spanish school El Rincón del Tándem tells you more about this interesting exhibition ?
The weekend is approaching and with the coming of the "new normality", we are back with new tips to help you enjoy interesting leisure and cultural plans in Valencia.
Without a doubt, one of the activities that we have missed the most during the quarantine has been going to the museums. So, this weekend, we encourage you to dedicate a little bit of your free time to visiting this exhibition on "Contracultura" (Counterculture) at the Valencian Institute of Modern Art (IVAM).
As its name explains, "Contracultura. Resistencia, utopía y provocación en Valencia" ("Counterculture. Resistance, utopia and provocation in Valencia"), the exhibition pays tribute to the cultural proposals and artistic expressions that emerged between the 70s and 80s.
This trip back in Transition time brings us closer to all the "marginal" and artistic expressions that rebelled against the established order and aimed to create new narratives about both Valencian and Spanish identity.
This exhibition space full of colours, posters and graffiti, offers us a unique opportunity to get acquainted with a rebellious Valencia of which we know little.
The exhibition is divided into 7 sections, each one dedicated to different artistic expressions or prominent figures of this time. All of them are connected by the common thread of heterodoxy and the challenge to the forms and principles of official culture.
In fact, we will get to know the transvestite culture in Valencia, its emblematic places such as La Cetra and prominent personalities of the Valencian night such as Encarnia Duclown, Darling Lilies and La Margot. Of the latter, (La Margot is the Antonio Campos's artistic identity), it is possible to appreciate original pieces, such as the dressing table.
An entire room is dedicated to Anastasia Rampova, a multi-faceted and drag queen artist, also known for her social activism through participation in Radio Klara programs.
Music-wise, Punk was the most representative genre of the counterculture, for its unconventional and rebellious spirit. Names like Generación 77, Seguridad Social and La Resistencia were the most popular punk bands of the Valencian scene.
We also highlight the section "Miradas contras el Patriarcado" ("Looks Against Patriarchy") in which we find works by feminist artists such as Isabel Oliver, which offers us a critical look at traditional canons of feminine beauty and Ángela GarcÍa that teaches us about the patriarchal imagery of women.
The section about Dissident Comics is a room that you cannot absolutely skip (among them, Lupe Veloz by Equipo Realidad and Polvorón Polvoriento by the Beltrán brothers) and other alternative publications such as Valencia Semanal and Cartelería Turia.
Finally, we will get familiar with a totally alternative view of Las Fallas, represented by the Falla King Kong and the Comic Gat Pelat. Famous was the controversy generated by the "Special Fallas" of the Ajoblanco magazine. An anti-conformist magazine that with this special issue provided a forum for unconventional views of the most traditional and popular Valencian festivity.
We really encourage you to get to know the protagonists of this antimilitarist, feminist, ecologist and alternative vision of the Valencian society by visiting the exhibition.
We remind you that the exhibition will remain opened until the 5th of July; so do not miss the chance to visit it ?
We hope this blog inspired you to undertake an adventurous trip into the "Contracultura" in Valencia.
As usual, our Spanish school El Rincón del Tándem in Valencia wish you a nice weekend. We hope you enjoy it.
Have a good weekend!